We're proud to announce the launch of two major initiatives designed to help investors be more successful: Quantcha Learn and InvestOps.
Quantcha Learn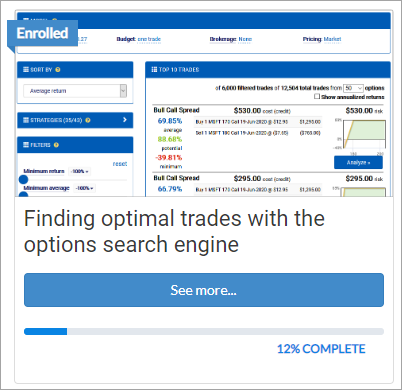 Quantcha Learn, available at https://docs.quantcha.com/learn, is our new online course library. Anyone can follow the lesson-based curriculum to learn about investing, financial engineering, and Quantcha through carefully structured courses. These courses include instructional content, hands-on exercises, and quizzes to help check your knowledge.
Everything in Quantcha Learn is freely available to anyone. You don't need to register to access the content, although registering with Quantcha Learn makes it easier for you to track your progress through courses over time.
We plan to regularly release new courses covering a wide range of topics related to options and Quantcha.
InvestOps
Part of our culture at Quantcha is to proactively seek feedback from investors so that we can consistently improve our platform. Besides feature ideas, one thing people at every level of experience tell us is that they're looking for ways to evolve their investment process with more structure.

To help with that, we are publishing the investment process patterns we reference internally when building Quantcha. We call this process InvestOps, which is shorthand for investment operations. It's not guidance on the kinds of investments you should make, but rather a structured approach in how to build and manage an investment plan. While it's not specific to options investing, it was developed from years of experience building tools for options investors.
InvestOps courses

We've published a series of three Quantcha Learn courses to help you get started:
InvestOps templates
The Getting started with InvestOps course includes some useful templates for managing your process, including:
A view development worksheet for organizing the research that goes into developing an investment view.
A trade plan for outlining trade positions, entry prices, exit conditions, adjustment strategies, and more.
A postmortem review for analyzing the results of the investment and process.
These templates are provided as starting points and may be modified and redistributed however you like.
If you have any questions or feedback, please let us know at hello@quantcha.com.